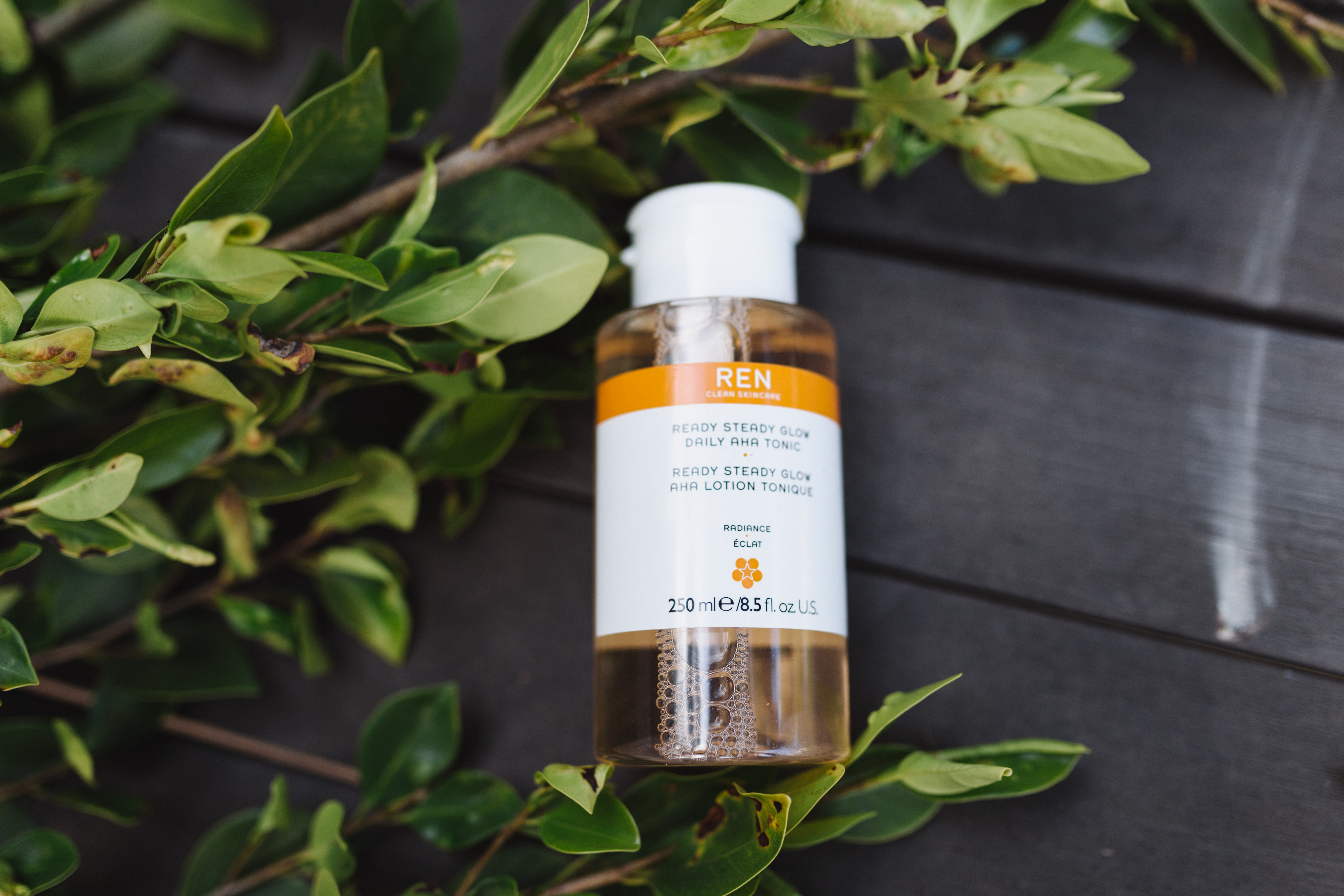 1. Swap out your disposable cotton rounds.
There's nothing more satisfying than exfoliating your skin with a cotton pad soaked in the Ready Steady Glow Daily AHA Tonic. But what's not so satisfying is throwing that cotton pad in the trash and into a landfill. Unfortunately, many cotton rounds and cotton balls are made from a combination of synthetic materials that aren't biodegradable and contribute to a high volume of waste.
But, your toner routine doesn't have to contribute to unnecessary waste. Instead, invest in a set of washable, reusable cotton rounds. They're just as easy to incorporate into your daily routine and washing them is as simple as throwing them in with your laundry. Just make sure to keep them in a delicates bag to prevent them from getting lost or frayed. Next time you use the Glow Daily AHA Tonic you can feel good about your smooth skin and your smaller environmental footprint.
2. Take shorter showers...seriously.
We've all heard the advice to take shorter showers to reduce water waste. As common as the advice is, it's not one to be ignored. According to the USGS, newer water-efficient shower heads can use over 2 gallons of water per minute and old shower heads can use up to 5 gallons of water per minute. Reducing your shower by just 5 minutes can save over 10 gallons of water daily.
Our Atlantic Kelp and Magnesium Salt range is the perfect addition to your shorter shower routine. Before you turn on the water, grab your Atlantic Kelp and Magnesium Salt Anti-Fatigue Exfoliating Body Scrub to start exfoliating. It works well when applied to dry skin and it means you're done with one step before you've even turned on the water.

3. Get creative with your empty jars.
The premium beauty world is full of beautiful, high-quality packaging. While not so great when thrown in the trash, the hefty, durable packaging is perfect for repurposing. Next time you finish up a jar of Evercalm™ Overnight Recovery Balm rinse it out and save it. It is a great option for storing small supplies around the house, keeping jewelry safe while traveling or storing other skincare products for airplane-friendly travel.
4. Donate un-loved skincare products.
Do you have skincare products laying around that aren't right for your skin type? Maybe beauty gifts that you would never wear, or too many samples than you know what to do with? Instead of letting them sit in your cabinets until they expire, you can donate them. There are a number of organizations throughout the country that collect beauty and skincare products to distribute to women in need. You can mail products to Beauty Bus Foundation or Project Beauty Share. You can also check the donation needs of your local women's shelter. Just keep in mind some organizations take new and lightly-used products while others exclusively take unopened products, so make sure you double check their donation guidelines.
5. Join us in our Loop™ Partnership.
Loop™, is a first-of-its-kind innovative business model that delivers waste-free shopping to consumers. Loop™, is bringing together a coalition of consumer goods companies to deliver their products in premium, durable packaging that can be returned and refilled to reduce the reliance on single-use packaging. REN Clean Skincare is the first premium skincare brand participating in Loop™. Loop™, is launching Spring 2019 in New York City.

Join our email list to learn more about the partnership and find out how you can purchase our products through Loop™.